As programmatic continues to grow exponentially, digital social news and entertainment company BuzzFeed is one of the latest major ad venues to come aboard.
Over the summer the global firm, which reportedly halved its budget to an estimated $250 million last year, began to sell display ads programmatically. Before then, the company monetized its digital presence via sponsored content from clients such as GE, Virgin Mobile, Starbucks and Taco Bell. Because BuzzFeed helped pioneer the native-advertising format by driving millions of readers toward its trademark posts, quizzes and videos that served as paid advertising, company execs previously said they wouldn't accept banner ads. Clearly, that's changed.
"Tactically, programmatic has improved in terms of loading times, mobile experience and ad quality and opens up another way for us to monetize our huge audience," CEO Jonah Peretti recently told Business Insider.
Calling the move "a bid to tap into its scale and monetize its owned-and-operated platforms more effectively," Business Insider's Tanya Dua reports the media company will encourage advertisers to run display ads on its homepage, story pages and mobile apps, and will seek new ways to run native ads conjunctively with programmatic. Exchange-based selling should help the firm in international markets where BuzzFeed has an audience but no sales force, Dua notes, with demand initially sourced through Facebook Audience Network and the Google DoubleClick Ad Exchange.
Programmatic success: All about the data
Overall, usage of programmatic advertising in the U.S. is expected to skyrocket this year by a rate of 31 percent, the fastest projected growth of all digital channels. In a Dun & Bradstreet report this year, 65 percent of B2B marketers in the U.S. said they buy or sell ads programmatically, up from 54 percent last year. And nearly 70 percent planned to boost spending on programmatic this year — 22 percent of them by more than 25 percent.
That trajectory is because of the corporate movement toward collecting information about customer habits and preferences, segmenting audiences accordingly, then optimizing the programmatic technology that can automatically choose the best advertising venues to effectively reach those audiences. However, the top challenges to programmatic cited in the D&B report were targeting the right audiences, followed by measurement/metrics and lack of knowledge.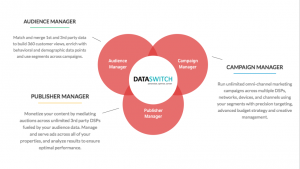 Fortunately, tools such as Lineate's DataSwitch make it easier to synthesize the copious amounts of data available for such purposes. DataSwitch can leverage your own customer intelligence and combine it with data from an array of other sources to produce invaluable insights for your segmentation strategy.
Analysts say companies that can't find a way to hone in on their audiences through advanced segmentation, programmatic ads and other means may increasingly find themselves at a competitive disadvantage.
"As data becomes a key differentiator for B2B marketing organizations, the use of technologies that can manage and analyze the torrents of customer and prospect information a company has are becoming more crucial," note the authors of the D&B report. "Programmatic isn't just about ad tech's promise. It's the way business needs to be done now and into the future."