In spite of nagging problems with fraud and transparency, programmatic advertising is expected to be more popular than ever in 2018.
In fact, a recent Dun & Bradstreet report indicates 63 percent of B2B marketers in the U.S. now buy or sell through the automated methodology, while 64 percent who do so plan to spend more this year than last (for 18 percent of those marketers, budgets will grow more than 25 percent). In the same study, eMarketer predicts U.S. programmatic spending will grow 20 percent to reach $39 billion this year, and $45.7 billion in 2019.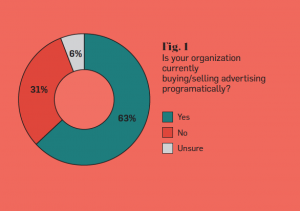 "Spending on programmatic continues to grow because it's the most efficient way to buy media," observes Dun & Bradstreet's Anudit Vikram. "Programmatic can be managed by a pretty lean team with minimal effort. And because it's all about the data, which is getting better, it's much easier to execute at scale."
We, at Lineate, are doing more and more to prioritize around this growth by building robust, scalable data-driven products and solutions that can adapt and evolve with the demands of the market. This means more emphasis needs to be placed on smart iteration and deployment of new feature-based capabilities and product enhancements, to suit the needs of brands and businesses facing the challenges inherent with programmatic.
Based on the undeniable benefits that programmatic brings to the table, here are some of the major issues and challenges predicted by analysts to be at the forefront in 2018:
Transparency: As buyers get more vigilant, first-price auctions get more popular and high CPMs become achievable, trackability will improve, predicts Jay Friedman on AdExchanger.com. That trend will start with transparency in payments, he says, noting some players will be appalled and some pleasantly surprised as ROI becomes apparent.
Fraud: While it will never be eliminated — it cost U.S. advertisers $6.5 billion last year, according to D&B — Friedman says it can be reduced through improved purchasing methods. He points to reductions in domain spoofing already achieved through Ads.txt adoption.
Programmatic via mobile: This category should grow as marketers seek additional channels. "While 2018 will likely mean modest gains for desktop programmatic pricing, mobile ads will become increasingly expensive as marketers tap into quality inventory," Friedman advises.
Audience targeting: Named as a challenge by 31 percent of U.S. marketers, this will be enhanced this year as companies push for better-defined campaigns and objectives, says D&B.
Measurement and metrics: D&B says 31 percent of U.S. marketers still struggle to capture accurate numbers reflecting ROI. But that can change. "If you can't build your in-house resources, at least consider tools or vendors that can empower your programs," D&B advises.
Lack of knowledge: Considered a challenge by 26 percent of U.S. marketers, this can be alleviated through staff training; D&B recommends studying ways of integrating digital ad buys with larger marketing and sales platforms.
Alignment with sales activities: Twenty-four percent of U.S. marketers name this as an issue, but D&B points out platform integration can improve focus on account-based marketing.
Viewability: Listed by D&B as a top concern of 23 percent of U.S. marketers (compared to 13 percent the year prior), the issue is largely due to B2B's reliance on real-time bidding on open exchanges, which can lead to inventory of questionable quality or relevance. "It appears B2B marketers are on the right track in handling this issue by increasing their in-house capabilities for managing programmatic," notes D&B. It recommends advertisers review post-bid domain reports, vet web pages for suspicious patterns prior to purchases and educate themselves through the Trustworthy Accountability Group (TAG) and Interactive Advertising Bureau (IAB).
Consolidation of platforms: Friedman argues the entire industry could be served by fewer than 10 server-side platforms; nevertheless, he doesn't expect significant mergers among the world's multiple competitors until at least 2019.
Attribution: The industry will continue to struggle this year with tracking attribution, says Friedman, noting marketers that use data inefficiently continue to waste money on ineffective ads.
"In 50 years ... programmatic will be considered an incredible achievement, the automatic transmission or central air conditioning of advertising," Friedman concludes. "Until that point there are definitely bumps in the road. But so long as marketers continue to focus on achieving the greatest lift in performance for the least amount of money, programmatic's true potential may soon be within reach."